You know how some women are crazy cat ladies (my Mom for one, who now has
15
cats...anyone in Illinois want a cat?)? Well, I am the crazy book lady. I have resorted to piling books up next to the 8 foot tall bookshelf that DH built because we have too many.
I am on the third book of the "Chronicles of Narnia", I think that it is called "The Horse and his Boy"...this particular book is moving a bit slowly, the other two in the series were a snap. Only 4 more to go after this one.
DH & I went to a garage sale yesterday (did I ever mention how much I love garage sales?) and the lady there is a bookworm as well...I could have easily spent alot more money if I had the patience to go through all of the books more carefully. We (DH did get 3 books afterall) only spent $10...on 19 books
and
a cat toy.
Here is a listing:
At another garage sale, I got a 4 pack of bobbins for my sewing machine for 25 cents!!! What a great shopping day!
After our garage sale adventures, we dropped off our newspapers, cardboard and shredded paper to the recycling center. I think that it all ends up in the dump eventually but at least we try.
Then we took our dog, Lady to the beach. She is a good swimmer, although she would rather just walk along the beach and sniff the hermit crabs. DH spotted a really cool blue starfish while he was swimming. Made me regret that we didn't bring the underwater camera. It was vivid.
While at the beach (Aqua Beach & south of it), we picked up a canvas shopping bag full of aluminum cans. Budweiser is truly the king of the island if you were to judge by the amount of cans that we picked up. I don't understand why people don't recycle their aluminum...they pay you for the cans for pete's sake!
*******
I am almost done with the baby afghan that I am crocheting. I am using Peaches n Cream cotton yarns, and doing it in a big Granny Square pattern. Not like the baby will need it here as hot as it is. I will get a picture once it is done.
I haven't picked up a needle or any cross stitch in forever it seems like. I did get a bit of new stash recently thanks to Jenn. She gave me a gift certificate to Down Sunshine Lane for my birthday back in March and I have been hemming and hawing about what to get. Well, I placed my order last week and here is what I got. BTW, let me just say that I love Amy at Down Sunshine Lane! Great service, I plan on using her much more. Thanks again Jenn for your generosity! You really surprised me when I needed it most.
2006 Just Cross Stitch Special Christmas Ornaments Issue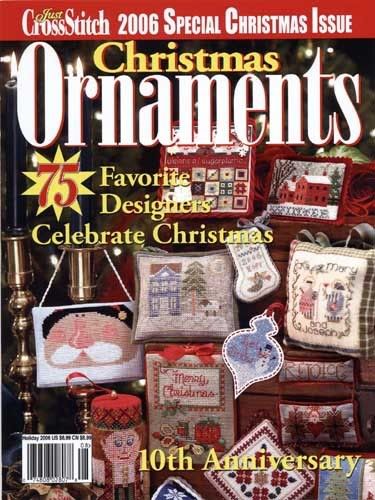 The magazine exceeded my expectations this year and I am very happy that I got my grubby hands on a copy!
Lizzie*Kate "Work Pray Trust" S69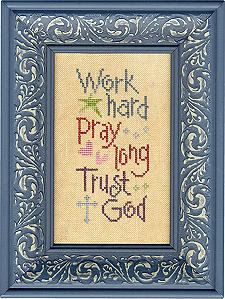 I knew when I saw this new release that I had to get it. We are planning a low-key Christmas this year, but I know that this will be stitched a couple of times for special people in our lives.
********
I have uploaded a couple of new pictures into my webshots album...a few that DH had on his work computer of our trip to Australia, some recent tummy shots (don't mind how babelicious I am looking), and a few new ones of the pets. Go to my webshots album to see.
Peace!