I am so thankful that I stocked up on solid colors of fabric before we moved out here! We had a Hancock Fabrics where we used to live and they had a big sale about 8 weeks before we moved. I remember going in there and piling up the bolts on the counter of all of these solid fabrics (and other colors) and telling them I would like 2 yards of each. I now have a use for them. Baby bedding! I have a quilt that I would like to make based on the picture below (sorry it is blurry, it is a picture of a picture in a book). I am also going to make the bumper for the crib using the same technique. With a twist. A bumper is basically 2 long pieces for the sides and 2 short pieces for the ends. I will split the long sides in 3 sections and the short sides into 2 sections. I will make it so that one section is the piecing like in the quilt and then the next section will be either a solid color chenille or a solid Minkee fabric and then the next section will be the piecing again, continuing to alternate. Anyone ever use Minkee? Should I use Minkee or Chenille? I have only seen Minkee in the Hancocks of Paducah catalog and on ebay. I might use a bias tape or a ribbon to seperate the sections...undecided on that so far.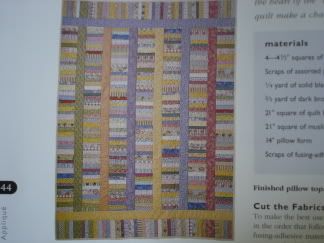 These are the colors that I am going to use. The ones taped to the sheet are ones that I would like to order and the solids are from my stash. I still need to get a lime colored solid though. I am going to mix in solids with the prints to break it up a little bit. I am trying to not be over the top girly just because we don't want to know what gender the baby is. They say that bright colors stimulate a baby's eye and brain development more than neutral ones do.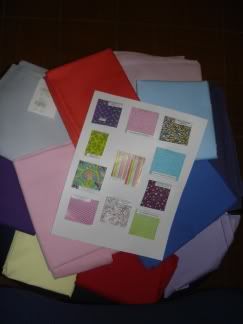 I went on a spree at the thrift shop on base before we left Guam buying wool sweaters and felting them. I have made a bunch of these door hangers out of just 2 of the sweaters I got. This one is for Mom. I did it in just about 24 hours with copious slack time. I used DMC Perle Cotton in an off white or antique white for the embroidery and the blanket stitching on the edges. I used vintage buttons out of my Mason jars. I decided not to make the back too crazy and just put my initials and year on it.
I really miss the thrift shop. There were so many great bargains there. A lot of junk but one time I found a quilting kit that was from Joanne Fabrics. It was a block of the month kit and I got all 12 months and the setting kit for $5. I sold it on ebay for $74 without shipping! It had never been opened. Same deal with garage sales. The garage sale we went to here was nothing but overpriced junk. Seriously, $5 for a baby outfit that is nasty stained?! Guess that they wanted to keep it. My Grampy & I used to go garage saleing. A few summers ago when we were home, we went and I got 2 bags of bias tape and rickrack for $1. 90% of it was still brand new in the package. Loved it!
Can't believe that it is July 1 already!! Hope everyone has a safe weekend. Anyone have a 4 day weekend?
Talked to Dad & J a little while ago...they are ecstatic, they got their pillow in the mail. They might be coming out to visit us! Yay! I would love that. They were thinking about surprising me for my 30th birthday this spring, but it is kind of hard to arrange a surprise like that considering we are so far away. One of J's neices is pregnant as well. Then, I openend up an email from DH's Aunt, congratulating us and she tells us that her oldest daughter (DH's age) is pregnant again! This will be her 3rd baby. What a fertile time for people I know. The count is: 7 pregnant women (including me) that I am related to either directly (blood) or indirectly (marriage). WOW! J says she thinks it is the ozone since it can't be the water.
Peace