Well, it is a good thing that I didn't post yesterday. I was rocking out in the tiny city of Pissyville. Population: Me. It wasn't like that all day...the morning started out well enough. A 6:15 am phone call from my Mom to get the day rolling. She had just received the grandparent pillow and is over the moon with joy. That gave me the warm fuzzies. It was a nice chat for the most part...until I found out that a couple of my cousins have also found themselves in the family way (about 6 weeks behind me), but they are in less than desirable circumstances and situations. In some twisted way, I still managed to find a little bit of jealousy hanging out and ran with it all the way to Pissyville. I prayed alot yesterday to work through this and have come to accept it. I have a great life. So what if my family is like 15,000 miles away and I won't get a baby shower? My life and my
family
is right here in Saipan. My Mother's nickname for me as a child was Pissy Missy. Coincidence, I think not.
As I was talking to my Mom, my Grampy called her and told her that they got my picture (their announcement) and Mom...who knows what she was thinking...says "Here, talk to Grampy". Now, I am on a landline talking to Mom on a landline. Grampy called her on her cell phone. It is virtually impossible to hold a conversation through a conventional sized phone handset to a midget palm sized cell phone to another person. I can just picture her holding the 2 phones together. I had to keep yelling to her that I couldn't hear anything. I ended up talking to Grampy later and got the, "I thought you said you
NEVER
wanted kids?!". Yeah, well I also said that I was
NEVER
getting married either. Ha! Guess I reserved the right to change my mind in plenty of time. Actually what I meant back then is that I
NEVER
want to have children that are obnoxious, misbehaved monsters with no morals, opinions or sense of responsibility. I can show you several examples in my family starting with the adults.
Mom started radiation. Every day for 20 minutes, weekends off. Until August 20 or something. They are radiating 9 spots. Plus according to her, they found a tiny spot on her liver on the CT scan so they are going to do a follow up in 3 months. God, let that not be cancer as well.
DMIL called me today...crying. I love her! She had just opened their pillow package and could hardly talk. She kept saying, "I'm so happy for you, you guys are going to make great parents". She was too cute. I wish DH would have been here to talk to her, but she will talk to him this weekend.
So, I am just waiting to hear from Dad & J.
Moving on....
This is a quilt that I sewed last year with the intention to send it to DMIL for Christmas. Well, the hand quilting wasn't done in time for it to be sent so I finished it, made the little pillow out of left overs and put it away for her birthday (next week). I was putting dishes away today and thought, "Holey moley...her birthday is next week...I gotta get that thing out of here!" It is the perfect size for one person as a couch quilt. Or a recliner quilt. The pillow is just decoration. I would say it is 5 feet by 4 feet or so. I think that I might make a childs quilt the same size.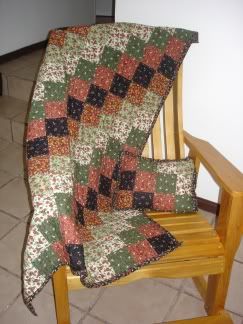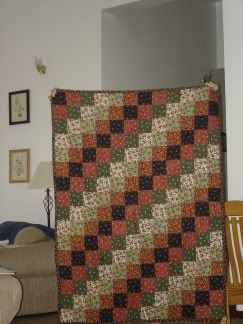 The mail people have been good to me lately. Besides bringing me $ for stuff I am selling, I received the 2 books from paperbackswap.com and my latest ebay purchase, a hank of SSS Butterscotch. Nothing planned for the thread yet, I just couldn't pass it up. And it isn't varigated, yay! Oh, BTW, I finished the book "The Shop on Blossom Street" that I showed a couple of posts ago...what a great book!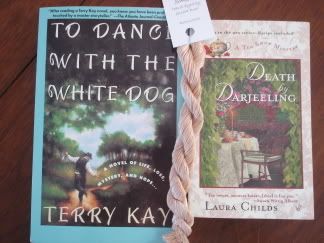 This is the shawl that I have started to crochet. I call it "Chocolate Covered Cherries". It works up quickly when I actually sit down to work on it. It is out of the mystery yarn supply that Mom sent.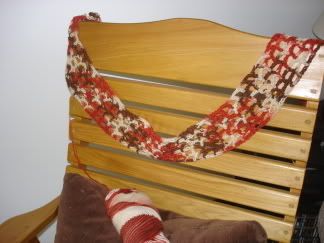 I did spend a little bit of time on Enchanted Alphabet last night. I am going to finish this part of the alphabet before I let myself do my July ornament SAL with the STO-er's.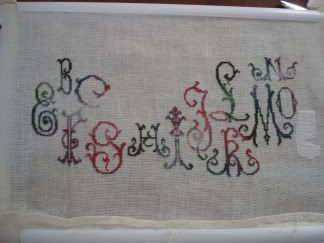 We have decided that our big vacation this year will be only to Australia. We were going to go to New Zealand as well, but the places where we wanted to stay are already booked up. That's okay, it will be fun and I can't wait!
This weeks shocking shopping in Saipan moment:
We are going to make lasagna tonight or tomorrow so I went to Joeten to pick up some ricotta cheese. I also needed sour cream to have on hand for various cooking projects so I was standing there in front of the chilled stuff and there is a huge section of small sour cream containers next to the big ones. The little ones had a sign below them that said 50% off with arrows pointing up to them. Wanna know why? Because they expired on
May 22, 2006!!!
Gross gross gross! That is over a month ago and they are trying to sell them. We were warned about this when we got here so we ALWAYS check expiration dates on
everything
. I don't see how that can be legal, especilly since it is a perishable item. Blech!
Peace
P.S. Kim, we don't have the PnS here...least not that I have noticed. I was just going to make a cardboard template and use either a washable fabirc marker or a silver quilting pencil. Would either of those work for what I am trying to do? I have those in my stash.