Ever since moving away from my family 3 years ago, mail has become a very fun time of the day for me. I do miss the home delivery we had in Louisiana and Guam, but at least we still get mail...most of it...the stuff that doesn't fall out of the Continental plane as it goes over the Pacific (I'm not kidding, it happened last year while we lived in Guam).
Yesterday I got some fun mail! I got my ebay wins, BOAF "A Very Fine Sampler" and Six Strand Sweets hanks in Organic Blueberry. I also got a few skiens of DMC metallics from a very nice stitcher on 123 as well as a baby stitching book that I want to stitch the pillow that says "Baby" from. And a couple of books from
Paperbackswap.com
. I love that book trading website. It is a pain at times because if something is mailed to me via Media Mail, it can take up to 8 weeks to get here and is kind of a hassle until you learn the system. I have received so many books from there all for the price of postage. If anyone reads this and wants to sign up, please use me as a reference... mhighfill@gmail.com . Once you post 9 books to swap, you instantly get 3 credits and I also get a credit. Love it!
Isn't this just a rough life? This is the baby, Bella. She likes to help me sew but it makes her sleepy after a while. Maybe it has something to do with the Pink Floyd I just downloaded that is playing. Nothing like "Comfortably Numb" to make you relax a little. I really wanted to get "Shine On You Crazy Diamond", that was the whole reason for logging onto the site today. Brought back memories of Dad & J and DH & I playing darts in Dad & J's bar downstairs last year. It was cute how they sang it to each other. Man, I miss them.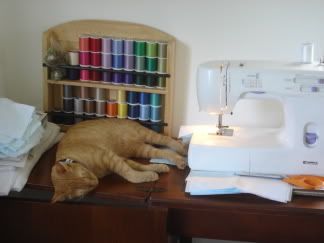 Okay, had to open up the Grateful Dead folder...got enough here to last the rest of the day. Back to sewing and singing along. If I hear "Shakedown Street" I will surely have to get up and dance like a true Deadhead. :)
Peace.