We went home (Rockford, IL) for a 3 week vacation, and got back last week. Crazy how we can leave Chicago at ugly 30 AM on Monday and not arrive in
Saipan
until almost 9 PM on Wednesday. I will forever miss Tuesday April 10, darned International Dateline.
One purpose of the trip was to have Connor baptized. Two of my cousins also had babies, one before Connor was born and one after, so we had all three baptized at the same time in our family's church. The babies were angels through the whole baptism, church service and communion.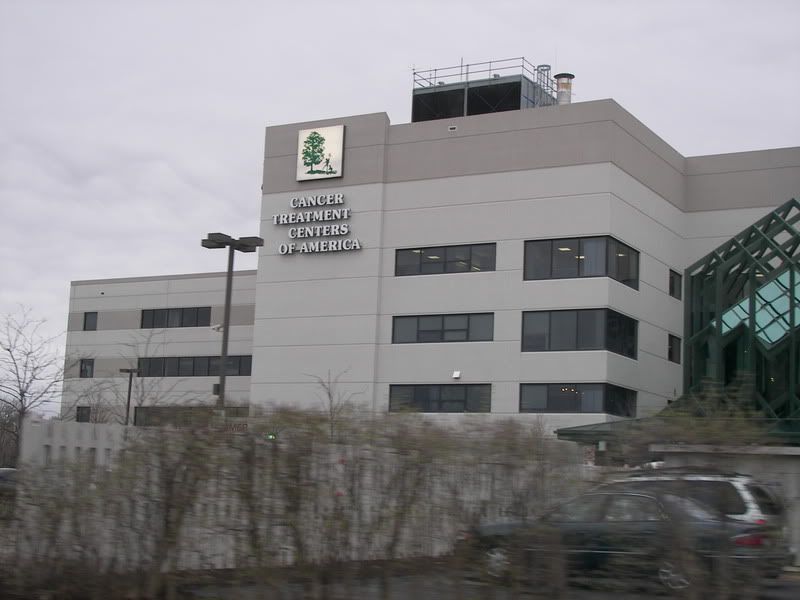 We got a chance to spend lots of time with Mom. You may recall that her breast cancer has metastasized and is in her spine. Well, it is in lots of other bones as well. She started going to the
Cancer Treatment Center of America in Zion, IL
right before Christmas and they have truly worked a miracle. They put her on a regimen of heavy duty drugs, including one called "
Xeloda
", and she is doing great. We went with her for a treatment and let me just say that if I ever have cancer, this is where I want to be treated. Wow. Treatment like that doesn't come cheap though. Her medicine for 3 weeks is around $1400 and each treatment at the center is almost $33,000 according to Mom.
We took lots of day trips.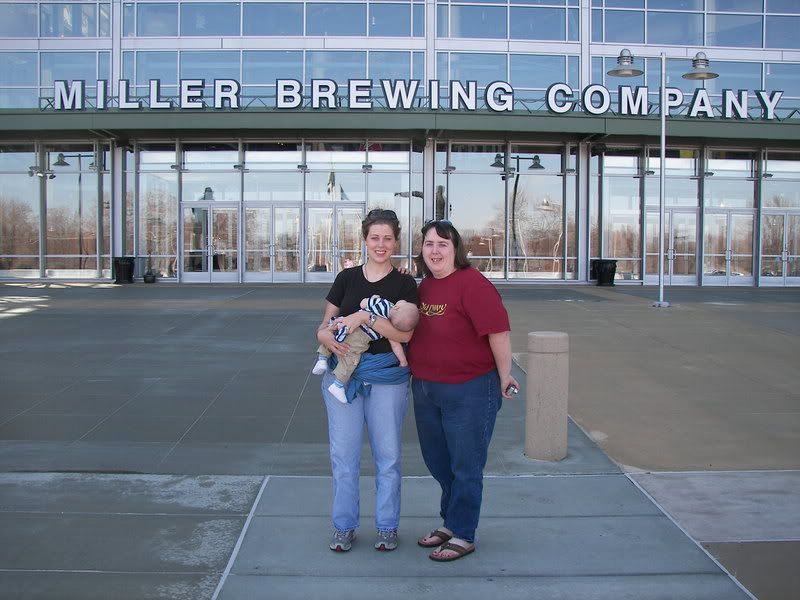 Went to Green Bay to meet up with a blogging friend,
Kim
. Kim & her DH Brian were on their way home from a weekend wedding and
Lambeau
Field made a great meeting point. Kim & Brian were just exactly like I had pictured them, they are such a nice couple. I am so glad to have finally met them in person! We had lunch at
Curly's
Pub inside of
Lambeau
and then took pictures outside of Vince Lombardi and Curly
Lambeau's
statues. Then Kim
dragged
took me to
The Stitching Bee in Green Bay
. Cute as a button little shop. It is so nice to see models stitched and finished, really inspires a
stitcher
. I didn't do much damage...mostly hit the sale bin. I will post a picture of my stash acquisition later.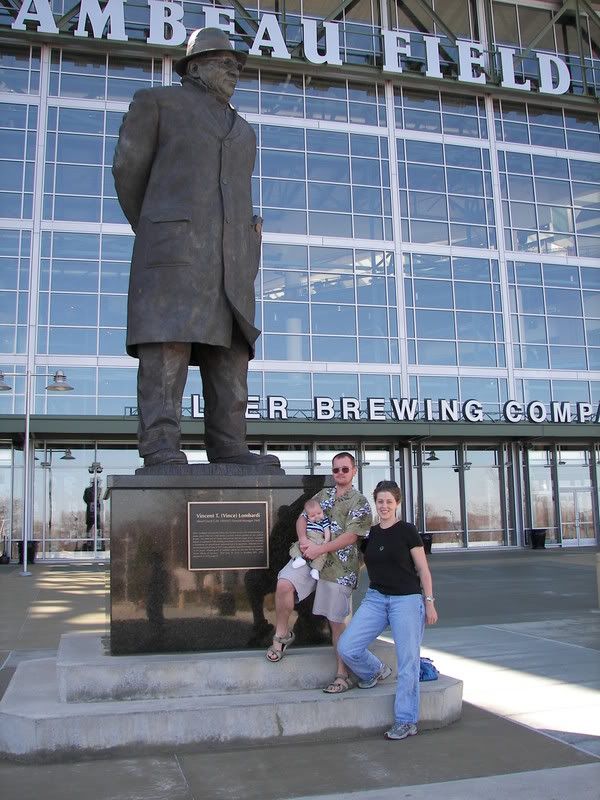 We then went to Sturgeon Bay, WI. Door County. We are hoping that we will be moving there next summer when it is time for us to rotate. *fingers crossed* While there, we went to a
winery
for a wine tasting and tour. I highly recommend the "
Hallowine
". If you like apple pie and wine, you will love this. It is served warm. Yum! We also went to a Maritime Museum...it was nice, but sucked that they didn't give a Coast Guard discount. Sturgeon Bay is really nice and I am trying to not get my hopes up too much.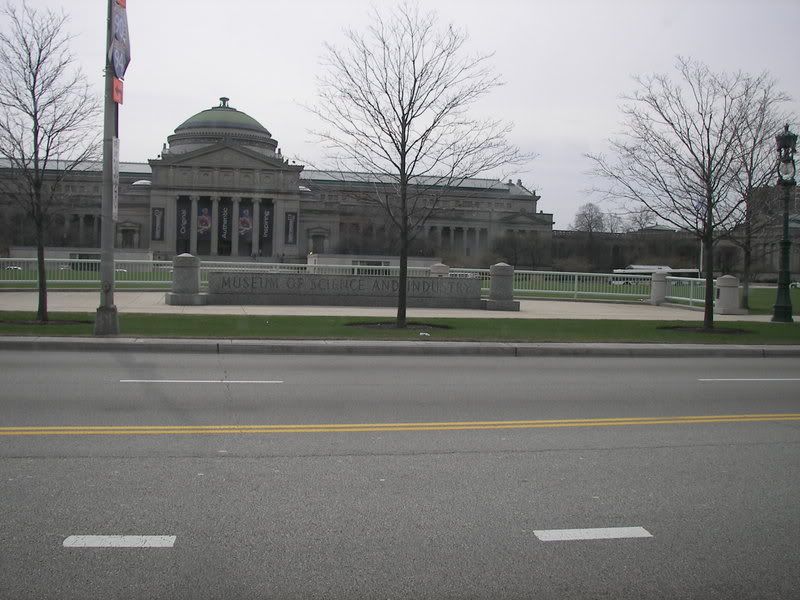 We also took a day trip to the
Museum of Science & Industry
with my Dad K and my little brother. DH had never been there before. We whizzed through there in record time. It is the kind of place where you either spend a few days and see everything or you whiz through and skip lots. Looks like we will have to go back again sometime. We also went to a
hoity
toity
tapas bar downtown,
Quartino's
. It isn't everyday that you have a bathroom attendant with a full supply of perfumes, hairspray, gum, mints, etc. at your disposal. But they were lacking a baby changing station. I am going to go out on a limb and guess that they don't get many families with small babies.
We took a day trip to Monroe, WI to get
Landjaegers
and cheese. Went to an awesome market,
Brennan's
. Will go back there for sure. Brought some strawberry rhubarb jam and natural peanut butter with Wisconsin honey and chocolate bits in it home to
Saipan
from Brennan's.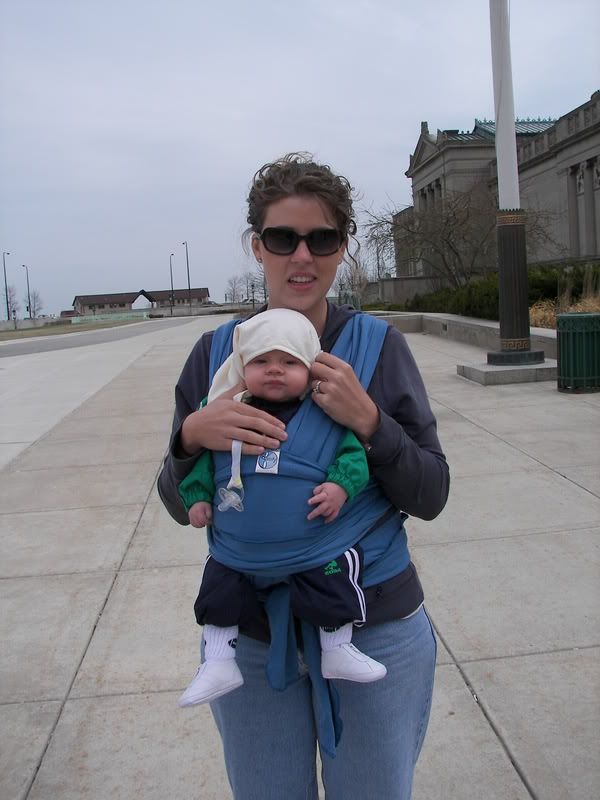 (Connor- I see you trying to throw out the gang sign there... I prolly ruined your cred' by putting your burp rag over your head, making you look like a Babushka. Sorry.)
The last day trip that we did was to
Galena, IL
. General Grant's house is in Galena. If I could chose one place to live in the States, it would be a toss up between South Louisiana and Galena. I think that Galena would win though just because it snows regularly there in the winter. We hit the candy shop, the popcorn shop, another winery, the canning company (got some awesome corn relish), and a bunch of the little artsy
fartsy
places.
We stayed with my
BFF
Stels
(the popularity queen) and her DH in their new house. I miss them already. They rock as hosts. While there, Connor got some serious bonding time with Maisie, their Guinea Pig. aka "
Piggers
".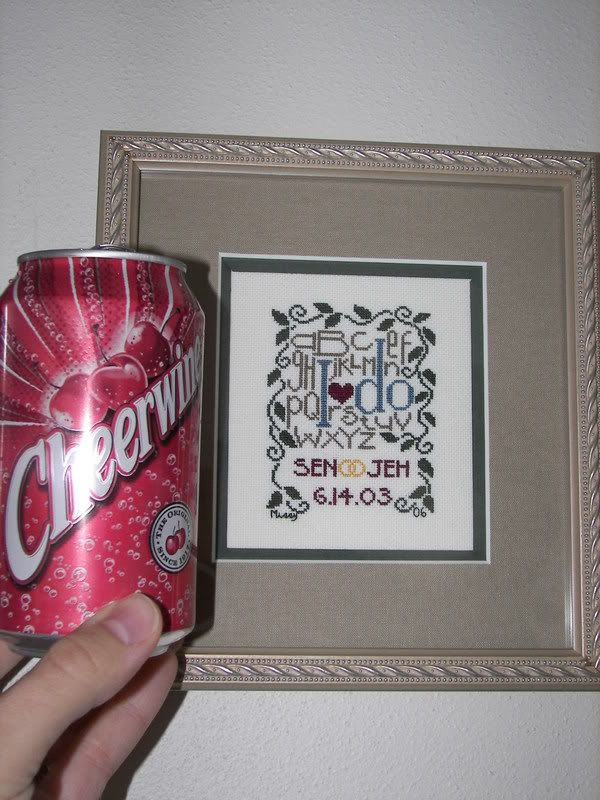 I also got a chance to snap a photo of a little
stitchy
present that I made for them last year. I sent it to them unframed and the framer that
Stels
took it to did an awesome job on it. Cost a fortune, I am sure. It is Bent Creek's "I Do" stitched on 28 count
evenweave
with
DMC
threads. I think that I substituted the colors for the rings though. It is stitched over one. The soda can is for reference.
Yeah, I also fell in love with a new soda, "
Cheerwine
". It tastes like cherries. I about fell over when the store had 12 packs of 7-up products on sale for $2.48 a 12 pack. We pay like 3 times that amount here in
Saipan
. Or, if you are really splurging, you could always go to Costco and buy a case of Coke in the bottle for $25 like my DH did. Silly guy.
Connor raises his head off of the bed while laying on his tummy now and he holds his head pretty steady while he is being held. He is back to sleeping for a good 7 to 8 hour stretch at night again. He will be 14 weeks tomorrow. Wow.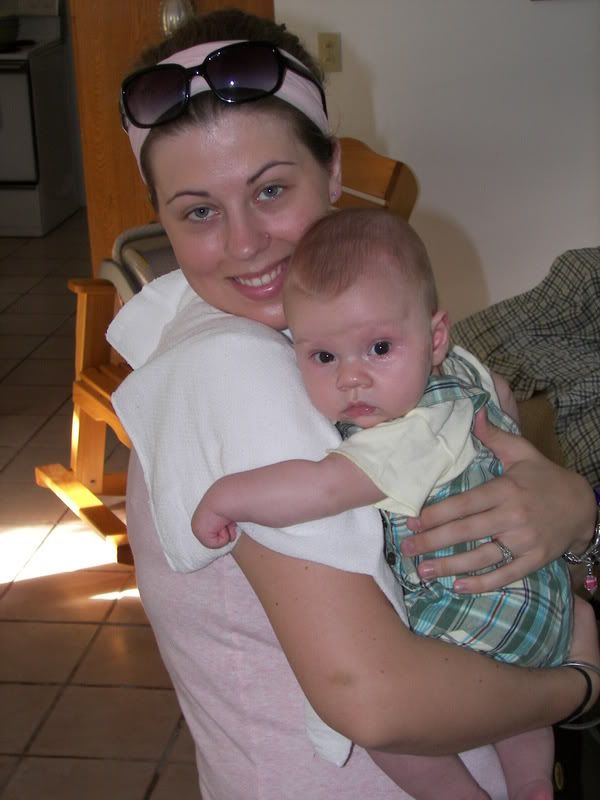 Peace.