We had a nice 4th of July. Hung out at the house most of the day and went down to Garapan for the fireworks. They had a little carnival and some local food vendors there. DH got a plate full of food for $4.50. I think that his ribs were actually dog though. And the barbecue sauce looked radioactive. I couldn't find much that looked good to me right now so I ended up with a chicken on a stick...cut up chicken pieces that is barbecued like a shishkabob. Total waste of $1 since it was mostly bones and fat yuck! I also got a piece of local style coconut pie which was quite tasty. Then we went up to DH's office directly across from the festivities. We were 5 floors up so we had a great view of what was happening. After a while we meandered up to the roof for the fireworks. I was impressed with the little show that they had. Much more than what I was expecting. I took tons of pictures (when it wasn't pouring on us). I also told DH that someday I want to watch the fireworks in Boston or Philadelphia.
Here are a couple of my favorite shots:
And the lovely traffic during the fireworks. This is looking north from the roof of DH's office building.
I am thinking that my camera hasn't been functioning to capacity ever since DH slipped off a rock on the Than Sadet beach and accidently got it wet. If you ever get the chance to go to Thailand, I highly recommend going to Ko Phangan (Phangan Island), north of Koh Samui and hanging around there for a few days. The royal waterfalls are really pretty in Than Sadet. Maybe later this week, I will post more pictures of our trip to Thailand last November.
I finished my Patriotic piece. It is "Pray for Peace" by Birds of a Feather (BOAF). I haven't rinsed or pressed it yet. I was going to yesterday when I finished it but of course...the power went out for a couple of hours. By then I had lost the ambition to do it.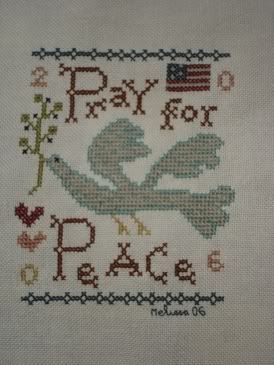 My Granny is home from the hospital and doing okay from what I understand. I haven't had a chance to talk to her yet. I did talk to Mom yesterday for a bit. She says that the Radiation is much harder on her mentally and physically than the Chemotherapy was. Plus they have her on all of these medicines to help her feel better and I don't really think that they are working. She is holding nothing back telling people how she feels. I just listen. She now knows about my youngest cousins pregnancy. The one that was supposed to be a secret. I guess that one of my Uncle's ex's is friends with one of Mom's friends and blabbed it. She is pretty disappointed right now in many things, so I will continue to pray for strength and acceptance for her. Not much more that I can do from here.
Jo if you are interested in picking up the Rainbow Gallery freebie series again, I would like to start stitching them also. I would need a couple of weeks to get caught up to you though: ) Do you know how often they are being released? That way we could figure out some kind of a SAL schedule or night. Anyone else interested in doing this? It is a really cute book once the series is done. Each page is a letter of the alphabet which has a different type of specialty stitch that matches the letter of the alphabet. If you want to see a picture of the stitched model with some more info, click here.
I called yesterday to set up my next OB appointment and found out that my OB's last day was yesterday : ( I am seriously disappointed. He was a very nice guy and I was thinking ahead to the whole labor & delivery scene and loved the fact that he had small hands and fingers. So, I don't know who my new doctor is going to be but as DH said, "That's nice *sarcasm*...well at least it happened now and not further down the road." Too true, honey! Just hope that it isn't a revolving door at that hospital since it is my only choice here.
Peace