I thought that I would like to get the BOAF "Grandmother Sampler" that I recently saw on ebay, so on the watch list it went. According to the auction, it was OOP (Out of Print) and rare. Last time I looked it was at $13. I guess I didn't realize it was $93 worth of rare! If I were the seller, I would have probably peed on myself.
This is the link to the auction
Seriously, $93 for
ONE
pattern? Sounds like BOAF is starting to get like some of the older Prairie Schoolers. Wait until Christmas time and you will see the Prairie Schooler "Christmas Village" going for $40 or more. Thankfully, it is already in my stash. And the ugly Rainforest Afghan. My apologies and condolences to those that love it but I have heard of people paying $60 for the booklet for that.
If the designers (especially Prairie Schooler) would reprint some of these designs, they would be making the profit instead of stitchers that buy a bunch and sit on them for a couple of years.
I saw this chart at
Shakespeare's Peddler
the other day and thought it was so cute. DH has yet to do any diving here. MIL is going to be taking some lessons so that they can go diving when she comes to visit. DH used to dive all the time when he was stationed in Washington State. But, it is a totally different spectrum here. I guess WA is more cold water type diving. God knows that my behind is not going diving at all. Ever. It is all I can do to snorkel. That whole fear of open bodies of water thing doesn't work out so hot living on a tiny piece of rock out in the Pacific Ocean. Anyway, this is a new one by Raise the Roof Designs and I just think it is too cute.

I finished this little ornament last night. Actually it wasn't "finished" until today. I wanted to rinse & press it and then attach the JABC buttons. This was the SAL for the STO group I am in for May. We are doing one ornament from the JCS 2005 issue per month. I did this one on 32ct. linen, millenium blue. I kinda fell behind so I am working on making it up. Plus, I ordered the JABC buttons specifically for this so it wasn't like I could just forget about it. Those little JABC buttons are pricey. And I have decided that they really aren't worth it. The stars for example, I had to turn most of them over because there was a circle indent around where the button holes are. How stupid looking. Like they used some tool to make the button holes and it ended up getting pressed in too hard. The design is by Sam Sarah Designs. This month's design is the Shepherd's Bush one. I think that I will finish this one off like they did in the magazine on a piece of felt. I still have a nice variety of felted sweaters in my stash so one is bound to work well. I will post pictures again when I finish it into an actual ornament. I plan on having a "finishing" day one of these days. Gotta get the completed pieces made up into something.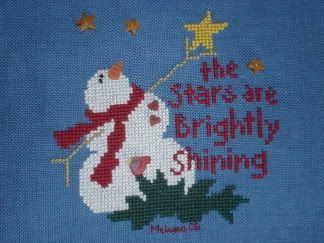 Our power was out again for most of the morning. So, I sat down on the floor of our office/craft room and sorted through my fabrics and put the different counts into bags to clean up the fabric drawer. I have a ton of 28 count! And it is mostly ivory or cream color...blah. Very small variety of colors. Then I set about cleaning the room. I have a stack of charts that is about to topple over on my sewing table that need to be sorted and put into binders, but I have run out of plastic page protectors. :(
I was going to make brownies this morning...I so had the urge to bake but the power went out (and our stove is electric) so that put the kabosh on the brownie making. I'm not in the mood anymore.
Tomorrow I am going to sit and really read the directions for our Rainbow Gallery SAL. Thank you, Jo for pointing out the directions to me. I didn't realize that there were directions...I thought we had to wait until the stuff came out at the LNS for the finishing techniques. I have my biggest cuts of 32 ct set aside and will start looking at the different floss colors and see which cuts to make into the appropriate size for the book. I have a giant piece of millenium blue and am hoping that it works out to be able to use some of it for that. Not to mention the giant piece of Belfast natural in my stash.
Peace!