The weather here is sooo nice right now.
Cool & Rainy. Just my speed.
I have decided that the last couple of posts are not going t be repeated again. This is a blog for me, my friends and family and sometimes I get a little carried away in the "ranting" venue. If I have something to say about local issues & politics, I will try to keep it at the end of the post.
Stitching:
On another note, I was saddened to read this morning on a message board that Nancy Wigman, the designer of 4 My Boys, is going to be retiring. :( When I got into counted cross stitch in 2000 or so, it was one of her designs that I chose to do. I had mainly only done embroidery (pillowcases, table runners) and some stamped cross stitch as a young teen. My Mom used to buy me the little kits at Wal Mart or something. I know that she said she never liked CCS because it was "too hard". She hated the counting and keeping place aspect. Anyway, back to my 4 My Boys story.
I was working for a local Dermatologist near a chic little shopping center back home and I had spotted a needlework shop. I decided one day on my lunch break to wander down there. It was like I had come home! So many models and charts & fibers galore. If y'all ever find yourselves in Rockford, IL, I highly recommend stopping by The Needle & I on Alpine Road in the Edgebrook Shopping Center. So, I found this design. I think it was called "Star light, Star bright". One of the shop ladies helped me out. I chose to do it
exactly
as the model on the chart cover was done. That meant doing it on 28 ct. linen (eep!) and all of the Weeks Dye Works and Caron Wildflowers. I think that I dropped $40 on that project alone. Which is alot to me now with all of the competitive online places and ebay. Especially for that little project. I do remember asking if I could just use "that floss you get at Wal Mart", and the sales lady looked almost snubbed. She replied, "Well, you could but it wouldn't be the same as how the model is stitched." Now each Weeks Dye Works was like $2 a skien and the Caron's were $4 (I think) so she knew I was going to drop a little $ by doing it the way the designer did.
And I am glad that I did. I have yet to finish this into anything. It sits all nice and pressed in my finish box, waiting patiently. I put this aside for a few years while I went through some painful personal issues and got discouraged by the 2 over 2 counting. I finally finished it last fall. I loved doing the Turkey Stitch on the ends of the scarf.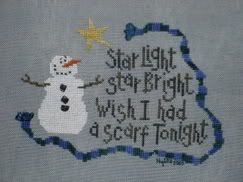 This is another one I did last year as a present for my Aunt and her family. I thought that the fabric was cute even though the bias tape edge was a struggle so I ended up hand stitching it. It was well received :)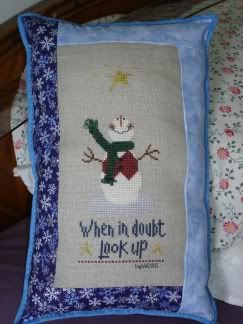 I have a few more of her designs in my stash...not nearly all of the ones that I want to do though.
I really wanted to start on my 2 letters for the Rainbow Gallery SAL that I am doing with
Carolyn
&
Jo
, but in re-evaluating my 32 ct fabric stash, I decided that the first 2 letters should be done on more of an ivory like recommended and not a putty or a clay. So, I bought some off of ebay yesterday and it should be here hopefully next week. If it gets too close to our Aug 1 "official" start day, I might just do C & D first and then do A & B when the fabric arrives. Carolyn has a great start to her letters and Jo is patiently waiting for us to catch up.
Baby
Today I am 99 days pregnant. I can't believe that we are in the second trimester already. The whole conversion of months to weeks is so confusing.
Week 1-4 month 1
Week 5-8 month 2 >1st trimester
Week 9-13 month 3
Week 14-17 month 4
Week 18 - 21 month 5 > 2nd trimester
Week 22 - 25 month 6
I am still not up to the same weight as I was at my first appointment. About 2 kg short actually. But, I did gain a pound this last week that I had initially lost.
My next appointment is on the 20th and I am going to pray that we hear a heartbeat! Some girls have already had a few ultrasounds. I only will only have one most likely.
We have decided that we will start shopping for the baby stuff once we come back from our trip to Australia. No point in getting it now to sit here and wait for 5 months. And I have a list of things that I want to buy.
This is something that I totally plan on buying
. I plan on wearing our baby most of the time, especially when we are out. Who wants to carry around a giant carseat thingy with a handle on the top that is a pain in the neck and heavy? Not me. Besides, we are planning a bunch of trips and this would be so convenient. And I have read that babies like to be squished in and close to the body. Something about feeling like they are still in utero. Did I mention that it is convenient for nursing? There are just so many positives. I might just have to get DH one of his own so he can share the load sometimes (if I can stand to give up the baby). Something in a more masculine print. Doubt that he really wants flowers but knowing him, he wouldn't care.
Politics:
Anyone else quite concerned about what is going on in the Middle East? We don't get Headline News, only Fox News for the most recent news and I usually catch part of the O'Reilly Factor (insert groan) at some point in the day. Man, this guy is certain that we are on the absolute brink of WWIII. That is a very frightening thought.
There is a new schedule out for our power outages and according to the schedule I saw in the paper yesterday, we won't be affected anymore, WAHOO!!! But, DH told me at dinner last night that from what he understands, the rolling blackout thing will be continuing for another 3 months.
Here is the link to yesterday's front page
One of my favorite aspects of the daily newspaper is the opinions & letter to the editor section.
I thought that this was a good opinion from yesterday that discusses "non-essential government offices"
. Kinda funny and thought provoking.
Did I mention that I rock? Yeah, I fixed the computer :)
Peace